Creating a Charlotte Mason Homeschool Schedule
Disclosure: This post may contain affiliate links, meaning I get a commission if you decide to make a purchase through my links, at no cost to you.
Many things make a Charlotte Mason education unique. One is the lesson schedule or plan. Creating a homeschool schedule might be one of the most important things you do as a homeschool parent. You can follow a rigid, time bound schedule, use a loop schedule, or have a very relaxed method and not follow a particular schedule at all. The type of schedule you use will depend on your family and the style of homeschooling that you follow. Let's dive into the unique characteristics of a Charlotte Mason homeschooling schedule with examples and tips for creating your own.
Characteristics of Charlotte Mason Homeschool Schedule
A Feast of Subjects
One fundamental principle of Charlotte Mason is a wide range of subjects. Mason often referred to the "feast of subjects." A Charlotte Mason education is known for its rich feast of ideas. While traditional schedules often cover broad subjects like language arts, math, science, history, and art, a Charlotte Mason schedule requires a more creative and comprehensive approach.
It is suggested to include 10 – 15 different subjects throughout your school week, catering to your child's holistic development. While the subjects may differ, this principle applies to all grade levels, giving children a generous offering of subjects to keep them curious.
Short Lessons
Lessons should be kept short and focused. Short lessons are critical in achieving a schedule with many subjects or a feast of subjects. Mason believed in brief, concentrated lessons that respect the child's attention span and promote engagement.
Lessons should be kept from 5 – 30 minutes for any subject, with most lessons remaining 20 minutes or less for younger children. Core subjects will have longer lessons. As children grow, their lessons will become slightly longer as their attention span and focus increase. High school-age children may have lessons that last up to 45 minutes, depending on the subject or child's ability.
Some subjects may be combined with another complementary subject, so you can extend that lesson time to accommodate. You will also want to adjust your lesson time to fit your child's learning style and ability.
Engaging Different Parts of the Brain and Body
Be sure to design and include activities that involve various sensory experiences. Charlotte Mason's schedules incorporate things like handicrafts, outdoor time, dance, singing, drawing, and free play to ensure the mind and body are being engaged in learning.
The schedules that Charlotte Mason used also spread out or separated lessons involving reading or living books. This allowed the brain to have a "break" and switch gears to a different type of learning in between reading. This allows a schedule to have fewer or no scheduled breaks. Children move between activities and subjects frequently so they don't get bored or lose focus as easily.
This post is part of The 2023 Charlotte Mason Blog Series!
Get inspiration and encouragement for your homeschool journey while grabbing great freebies, discounts, and other tools & resources!
Group Learning Time
Incorporate group work or circle time into your schedule if you have multiple children. You can easily cover subjects like Bible study, nature study, art appreciation, music appreciation, history, geography, and read-aloud in a group or family-style learning setting.
You may also consider joining a co-op or homeschool group for some of these subjects.
Independent Learning Time
Balance group study with independent study time, gradually encouraging your children to work on their own as they get older. This not only fosters independence but also allows you some flexibility in managing household tasks and younger children who need more support with their lessons.
This may include tasks like copywork, assigned readings, handicrafts, or subjects like math or science, where children may be on varying levels.
Flexibility
While it may seem like a Charlotte Mason homeschool schedule is very rigid and complicated, it can actually be very flexible. Life happens, and a Charlotte Mason schedule can easily accommodate interruptions, plan changes, and unexpected events.
Subjects are usually not visited every single day. You may only work on a specific subject once a week or even once every other week. This allows for flexibility if you need to move your schedule around or an opportunity for an impromptu field trip arises.
Sample Charlotte Mason Schedule
Below is an example of Charlotte Mason's schedule for students grades 4-6. Don't be alarmed if your schedule doesn't resemble this. This is merely to show you how Mason implemented many of the principles of her method.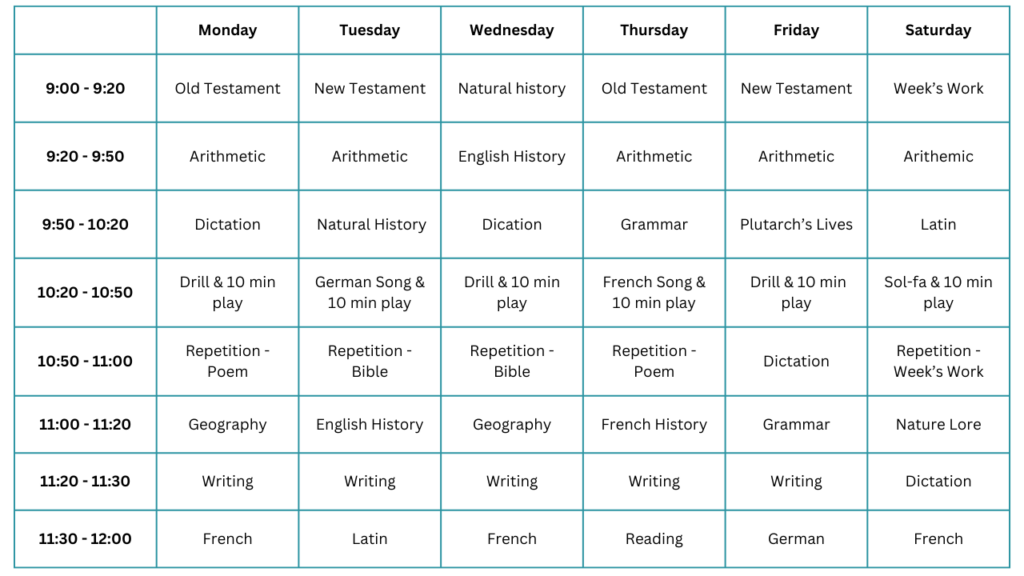 You will notice the amount of subjects, including specific subjects such as dictation, repetition, song & play, and nature lore. These are all some of the subjects that are unique to the Charlotte Mason method of homeschooling.
The timeframes in which the subjects are scheduled are also very short and without any scheduled breaks. The school day is only 3 hours long for this particular age group, though.
Lastly, you'll notice that this schedule is for a 6-day school week. This was a characteristic of education in Mason's time and is obviously not a requirement to follow a Charlotte Mason approach.
Tips for a Charlotte Mason Homeschool Schedule
Utilize Coded Bookmarks
With multiple living books in play for various subjects, use bookmarks to set realistic reading goals and keep track of progress. Whether it's a certain number of pages per day or finishing a chapter per week, these bookmarks keep you and your children on track.
Consider color coding your bookmarks or even the spine of the books to indicate the subject. This allows you to easily and quickly grab your books from a shelf.
Stay Flexible
Maintain flexibility in your schedule. Life happens, and Charlotte Mason schedules are designed to accommodate interruptions, plan changes, and unexpected events. Don't focus on finishing all of a lesson or checking all of the boxes in a day. You may find that your child takes great interest in a topic or lesson and asks for more time. Allow their curiosity to drive the activity if necessary.
Keep Days Unique
You'll notice in the sample schedule from Charlotte Mason that no two days were the same. This variety keeps a child's interest. Be sure to mix your subjects throughout the day and week, keeping in mind that heavy subjects or those that involve a lot of reading should be kept with plenty of space between them.
Block Time for Outdoor Play, Field Trips, and Other Hands-On Learning
The Charlotte Mason approach provides plenty of opportunities for outdoor time, nature walks, field trips, and other activities that would not fall into a regular schedule. Be sure to block out times and/or days for these adventures.
You'll see there are many ways a Charlotte Mason homeschool schedule is similar to a traditional schedule, but also many things that make it unique. Remember, when creating your schedule there is no right or wrong way to plan out your lessons. Keep in mind your own children's interests and abilities.